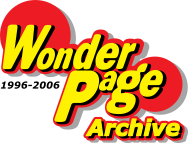 This is the Namco WonderPage Archive, a restoration project made to preserve Namco's WonderPage site as much as possible. This project started in July 2020 and has seen frequent updates since.

The WonderPage (ワンダーページ) was the name given to the website for the Japanese game company Namco. The site launched in late 1996 to provide consumers with the latest information on Namco's games and news on the company itself and its upcoming releases. Throughout its life, the WonderPage featured sweepstakes, interviews with developers, desktop wallpapers, and other exclusive content. The WonderPage was closed on March 31, 2006, when Namco was absorbed into Namco Bandai Games and ceased operations. The site was taken over by an unrelated company also named Namco, which has since renamed itself Bandai Namco Amusement.

Throughout its life, the WonderPage went through five different revisions. The goal of the WonderPage Archive project is to restore as much of the content from these sites as possible, to keep this small yet interesting facet of Namco history intact for future generations and fans. This includes fixing broken file links, restoring previously-deleted or missing pages, and more.
The inspiration for this project stemmed from the incredible work by Dreampipe to restore the North American website for Sonic Adventure, which preserves much of the site's original features such as the rankings board. I was truly impressed, and decided to do the same for the WonderPage as it is an interesting piece of Namco history that is largely overlooked. I hope this project allows more people to discover this and appreciate it as much as I do.

I've gone by a few names online, but you'll likely recognize me as namcokid47 (fitting, huh?). I'm probably best known for my extensive work on Wikipedia, where I've made over ten thousand edits to Namco and Japanese video game pages in general. I've also written for video game websites such as Hardcore Gaming 101. This is my personal passion project, and I'm very thankful to be able to share it with you all.
If you would like to help spread the word on this project, feel free to copy this cool banner to use for your website or forum post or what have you.